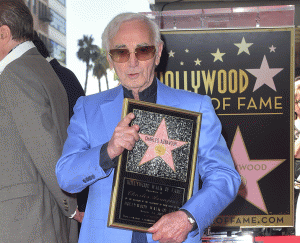 The Hollywood Walk of Fame attracts visitors from all over the world to its more-than 24 star ceremonies which are held annually and broadcasted to every corner of the globe. This event is open to the public and entry is free. The task of adding stars is entrusted to the Hollywood Chamber of Commerce which also represents the interests of the City of Los Angeles. The main purpose of the Walk of Fame is to recognize those who have worked diligently to develop the concept and maintain this internationally-recognized Hollywood icon.
Installing a star on the Walk of Fame comes at a price though, which is estimated at approximated $40,000, which is paid by the sponsor of the nominee, who remits the money to the Hollywood Historic Trust. The money is used to pay for the creation and construction of the star, holding the ceremony and maintaining the Walk of Fame.
This year, the 2618th star was honored to the legendary entertainer Charles Aznavour in August in the presence of thousands of people, including the Hollywood Chamber President and CEO Leron Gubler, California State Senate President Pro Tempore, Kevin de Leon and Peter Bogdanovich, the director.
For the past 24 years, Charles Aznavour has been on the front line entertaining millions and has attracted a large following of international and multicultural fans. He is a cut above other renowned, world-class entertainers like Bob Dylan and Elvis Presley owing to his meticulous work which cuts across generations, and which resulted in him being named the Entertainer of the 20th Century by CNN in a 1998 Time Online poll.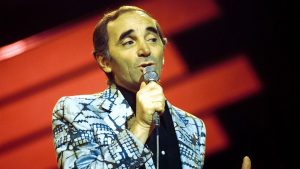 It was indeed thrilling to the people of his homeland of France to see his star placed on the Walk of Fame. The impeccable record held by Charles Aznavour is in a class of its own; he has so far written 1300 songs and recorded around 1400. He has been able to master several languages during his 70-year career in music, which has enabled him to record songs in German, Italian, Spanish, Armenian, English and his native language of French. There are around 390 albums to his name with many of his records going Platinum and Gold.
Being an artist of international repute Aznavour has sold more than 180 million records worldwide. His talent also extends into film and acting and he has over 90 film credits. These includes The Tin Drum, which went on to win the Academy Award for the Best Foreign Film, Up, a Disney feature film, and Shoot the Piano Player among others.
Aznavour was born in Paris in May 1924 and was lucky to discover his passion early. His father, an Armenian genocide survivor, would put together live shows in his local restaurant to entertain friends. This gave Aznavour exposure and helped induct him into the world of music and acting. He first went on stage at nine years old, where he performed in a play, –Email and the Detectives'. Since then, this iconic artist has never looked back.
Aznavour has done collaborations with many other artists and featured in dozens of other acts. For instance, he partnered with Pierre Roche, a talented guitarist, and together they pulled off a flawless performance in the forties. Later on, he was to meet Edith Piaf, the famous French chanteuse, who managed his tour of the United States while writing songs for him. This partnership propelled Aznavour's career further on the global stage.

She – Charles Aznavour – 1974
It's in the fifties that Aznavour started his solo career, debuting with his first solo record, Sur ma Vie. In the seventies and eighties, he was at his peak, and it's then that he affirmed his position as a world-class artist. Some of his popular hits at this time include Yesterday When I Was Young which was received extremely well in the United States. Another one, She, went Platinum, selling one million copies and topping the charts in the United States for four consecutive weeks.
Aznavour has not only excelled in the entertainment industry; now at 93 years old, he has dedicated his life to charitable endeavors to improve the lives of others. He has not forgotten his Armenian background and supports charitable causes there, where he's actively involved in humanitarian projects. He also campaigns against anti-piracy, is a champion in international copyright and intellectual property and also serves as Armenia's ambassador to Switzerland. He's also Armenia's ambassador to UNESCO in Paris.
This and many other achievements truly make him the best possible candidate to be honored with the 2618th star on the Hollywood Fame of Walk.