France is home to extravagant talent spread across fashion, art, music and countless other disciplines. When summer arrives, festival lovers descend on France to attend the many eclectic music festivals. Here is the list of must-attend summer music festivals.
Sakifo At Saint Piere
2nd -4th June 2017
From its inception in 2004, this three-day event is held across six different stages, celebrating all the different genres of music. This usually provides the perfect opportunity for artists and consumers of art to mingle. It's the perfect time to celebrate both music and culture.
Hellfest At Clisson, Loire Atlantique
16th -18th June 2017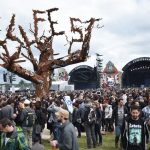 If hard rock is your thing, you should definitely head to Clisson for three days where you will be treated to a variety of heavy metal music like you've never heard before. And if you are a beginner, you will be in the best place to learn what it means to love metal, as you come face-to-face with artists who have perfected their skills in the field.
Up to seven stages are live at any given moment and you can choose either to remain in one particular location, or to sample what's happening from all the stages.
The dress code is usually wild and out of this world – prepare to be creative.
Nimes Festival At The Arena Of Nimes
20th June -21st July 2017
This is another festival that brings together rock and contemporary music lovers for one month. Held at the historic city of Nimes, close to 20 artists converge here to entertain and celebrate their art. This event has been held courtesy of the city of Nimes, in collaboration with FM Productions, since its inception in 1997.
Solidays At Paris
23rd -25th July 2017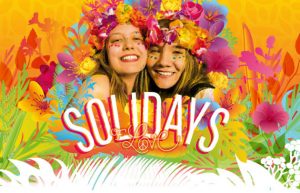 The Solidays festival is one of a kind, from the huge crowd gathered to the cause being championed. I mean just that, because every year people have found it necessary to gather for entertainment, while still making it a cause to stand in solidarity in the fight against AIDS.
Close to 3,000 volunteers and 160 artists come to Paris every year to make this event happen, and it never disappoints, attracting over 150,000 revelers joining hands to make the event a success.
Garorock Festival At Marmande
30th June -2nd July 2017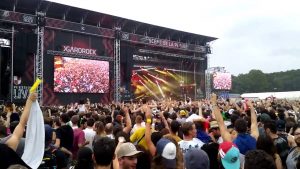 Since 1997, lovers of rock and electronic music gather here for three days of performances, which start every day from noon and go on until the small hours of the following morning. Experienced artists and emerging talent come to this festival to showcase their creativity.
Main Square Festival In Arras, Vauban Citadel
30th June -2nd July 2017
This is another important three-day event which has been running since 2004. People converge at Vauban to celebrate rock, pop, hip-hop and electro, and with more than 40 concerts running over the course of the event, international and local artists come here to leave a mark.
Calvi On The Rocks In Calvi
30th June -5th July 2017
In Calvi, people gather for six days every year, to celebrate and appreciate culture – this year it won't be different. Various activities including electronic music, artistic performances and Corsican traditions that are held in various places within the city, its beaches and citadel.
In the afternoons, you can experience blistering sets from the world's top DJ's on Calvi's beaches, while in the evenings you could attend performances at the outdoor Theatre de Verdure or relax at the harbor.
Carcassonne Festival In Carcassonne
1st -30th July 2017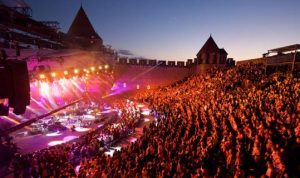 Big names in music like Elton John, Deep Purple and Indochine are known to entertain an eager crowd of close to 260,000 here at Carcassonne City. A perfect blend of local and international artists is made up of over 100 performers, who keep the electrified crowd on their toes, chanting their hearts out, while putting their best foot forward.
Performances are held at the famous La Fajeolle Main Stage, the Jean-Deschamps Theatre or at the Count's Castle in the city.
Les Eurockéennes Festival In Sermamagny
6th -9th July 2017
I don't think there is any outdoor event that can measure up to this one. Since 1989, this festival has never disappointed. It seems like everything has fallen into place to provide the 100,000+ party animals who attend this event an experience like no other. The beautiful location, which is only a short distance from Belfort and surrounded by hills and lakes, makes it the perfect place for those who treasure good times. Usually, there are four stages with live bands performing their hits, with all different genres of music well represented.
Terres Du Son In Monts
7th -9th July 2017
This out-of-town event is packaged to entertain and champion the protection of the environment and sustainable development. This does not mean that it's short of great entertainment, because lovers of pop, reggae, rock and a mix of other types of music are left begging for more after enjoying over 72 hours of nothing but the best of modern music.
Francofolies In La Rochelle
12th -16th July 2017
This is a perfect opportunity for young talent to learn from experienced artists. The event, which is known to offer contemporary French songs and music, gives emerging artists a platform to showcase their talent and get advice and guidance from their peers. You mustn't miss the opportunity to listen to what these new artists have to offer.
Beauregard Festival In Normandy
7th -9th July
Since 2009, Chateau de Beauregard comes alive with people flocking from all over Europe. Rock lovers cannot afford to miss the electrifying moments at this alternative festival, which brings together rock 'n' roll die-hards for an amazing three-day leg-shaking experience. This year I am told it will be a blast.
La Route Du Rock In Saint-Malo
17th -20th August 2017
Two places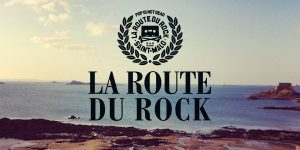 in Saint-Malo are a hive of activity every year when the world descends on them for a special demonstration of what independent music thinkers have to offer. In summer and winter each year, Fort Saint-Pere and Bon Secours Beach are the places to be. The special thing about this event is its unique theme of holding an open-minded musical festival, driven by creativity. Always full to capacity, people arrive here in droves to enjoy a one-of-a-kind festival like nothing they've ever experienced.
Rock En Seine In Saint Cloud
25th -27th August 2017
There has never been a better way to close the summer season than to see it out at Saint Cloud. Every year at the end of August, over 100,000 people gather in Paris with vigor, as if to thank the gods of summer. The energy experienced in this four-day event is out of this world. Popular French music comprising of pop, rock and electro is played in the historic gardens, as revellers from local and international communities gather to dance and enjoy nature.
Les Nuits De Nacre In Tulle
14th -16th August 2017
One of the instruments that has helped to shape the world of music is the accordion. France ensure this iconic instrument's contribution won't die out, by putting it on every corner of every street for four days, during which different genres of music fill the air. This is a crucial cultural event dedicated to the accordion, holding more than 90 concerts free of charge.
As you can see, its talent galore in France, and there are countless festivals where you can have a blast during summertime. These festivals happen every year, so if you missed out this year, don't sweat it – next year is waiting for you!